Membership Application
If you would like to become a member of the Northern Newfoundland Club then please click the link below to access the Application Form. This will need to be completed and posted to the Membership Secretary.
Please note Paypal cannot be used for Membership Applications.
Membership Renewals
DUE 01 JANUARY 2021
If you haven't already renewed your membership, you can now renew using Paypal.
Unfortunately there is a small surcharge of £2.00 on Joint, Single and Junior Memberships to cover the fee that they charge us.
Thank you for your continued support.
UpcomingEvents
Due to COVID-19 there are no upcoming events
Welcome to the Northern Newfoundland Club...
Formed in 1984, the Northern Newfoundland Club is the second oldest of the three KC recognised representative Breed Clubs in the United Kingdom. We promote all aspects of responsible and enjoyable Newfoundland ownership and organise numerous events and activities through the year ...
more
Christmas Cards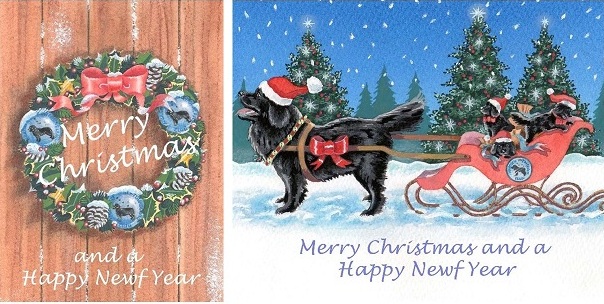 The above Christmas Cards are available from the NNC and have been created in two sizes, A5 and A6. Each design is available as a pack of 6 cards, including envelopes.
The prices are as follows:
A6 Size £3.99 (Free p&p)
A5 Size £4.99 (Free p&p)
Please contact Stella Baxter (stellabaxter@starcove.co.uk) and provide her with your Name, Postal Address and Email Address.
Breeder Request
Could we please ask all breeders of puppies who are planning to have litters, or that have litters available to please let John Austin, our Puppy Liason Officer know at the earliest time as we are receiving a significant number of enquiries for puppies at this time.

Many Thanks.
NNC Main Committee
Important Announcement - NNC Champ Show
It is with regret that the NNC Committee have decided to cancel our forthcoming Championship Show on 24 October 2020 to be judged by Mrs Kirsteen Farrar.

The decision has not been taken lightly, but in view of the present Government Guidelines and Kennel Club recommendations relating to Covid 19, the Committee have decided this is the safest course of action for our Judge, exhibitors, show officials and stewards. Our main concerns must be the safety and health of everyone who would attend the show.

We are in conversation with the KC in regard to rescheduling the 2020 Championship show later in 2021, so the NNC will be holding TWO Champ shows next year as well as our usual Open Show in August 2021. The 3 April 2021 Show (Judge Mr Stephen Hourihan) will go ahead as normal, and is unaffected by these changes. Once we have a definite date agreed with the KC and Mrs Farrar, we will let everyone know.

The NNC Officers and Committee would like to thank all our members and exhibitors for their continued support during these difficult times.

For the reasons outlined above, the NNC AGM will also take place online and not at Winwick. All AGM documentation will be sent electronically to all members. Members without email will receive documentation by post. Adoption of the Accounts by members will be also be done by electronic reply. We are searching for a new Treasurer urgently, so if you are an NNC member and have the skills and time, please contact me.

One bright light on the horizon, is the Newfletter. Our editor Rachel Hutchinson has been extremely busy finishing the compilation, and our printer is now back in business . So all members will receive the Newfletter and new Membership book soon.

We can then look forward to a happier, safer 2021.
Jill Barker.
Hon Secretary and Show Manager.
Online Dog Show - Update
Further the postponement of the NNC April Champ Show and following the cancellation of all the forthcoming shows over the next several weeks/months, the NNC have decided to run an online dog show. There will be 12 classes, with one class being scheduled each week for the next 12 weeks. The classes are as follows:
1. Prettiest Bitch
2. Most Handsome Male
3. Best Rescue
4. Best Action shot
5. The Veteran Award (8+ years)
6. Cutest Couple
7. Dog the judge would love to take home
8. Cutest Puppy (3-12mnths)
9. Funniest Fancy Dress
10. Child's Best Friend
11. Muddiest Dog
12. Little & Large
There will be no entry fee to enter any of the classes and for further information please visit the NNC Facebook page. the first class will be open for entry on Monday 30 March.
The following link will take you to the page where the winners are being posted each week
Announcement - Breed Education Co-Ordinator
The NNC Committee are pleased to announce that following discussion and agreement with both The Newfoundland & Southern Newfoundland Clubs as well as acceptance by the Kennel Club, the new BEC for Newfoundlands is Maxine Munday.
Maxine owned Newfies back in the 80's and 90's.
If you have any questions regarding the JCF or advice on the way forward with your judging then you will find her contact details on the Contacts page of this website.
On behalf of the NNC Committee
Welfare Still Needs Your Help!
As you know the Northern Newfoundland Club Welfare believes that we all have a responsibility to rescue dogs in need; to educate the public about the desirability of adopting Newfoundlands as companions and family pets in the home.
None of this would be possible without the generous donations of money that we receive, and therefore we are appealling to you all to help by making a donation to NNC Welfare.
To find out more about the work and some of the costs involved, click the link below.
Our members and visitors to this our Club website are vitally important to our fund raising efforts therefore we have decided to raise the profile of Welfare by including below a new Welfare Paypal donation facility. We would be most grateful for any donation, however small.
Club Open Show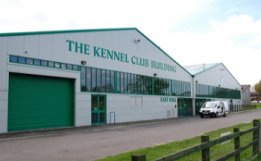 The NNC Open Show was judged by Mrs Liz Shears; We had an great entry of dogs, their was a very friendly atmosphere and the show was extremely successful.
All Results, Photos & Critiques are now online.
Breeder & Puppy Website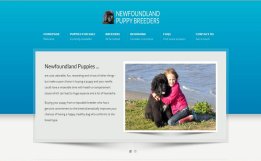 The Northern Newfoundland Club has recently launched a new website for breeders and puppy buyers.
The primary purpose of this web site is to put potential Newfoundland puppy buyers in touch with reputable and recognised breeders by steering them away from general online puppy sites (e.g. Epupz, etc).
Welfare Stall at Crufts 2019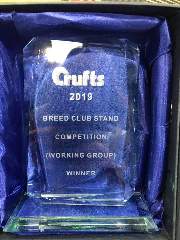 The Kennel Club awarded the trophy pictured to the NNC Welfare stall at Crufts. Michelle Jenkins, NNC Welfare Coordinator said "We were overwhelmed when presented with the trophy on Friday for best breed stall in the working group.&quot Ruth Dickinson has done a fantastic job preparing and selling our merchandise.
Fundraising
Do you want to help raise funds for the Northern Newfoundland Club?
If you do then why not register with "Easy Fundraising". Then every time you shop online you will be raising money for the club. The NNC has now been enrolled. Please visit the site and register by clicking the link below:
"ZARINSKA" Golden Oldies Certificates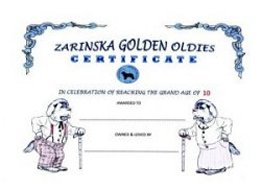 Do you own a Newfie that has reached the ripe old age of 10 years or more?
If so then why not apply for a 'Golden Oldies Certificate'. These certificates are kindly provided by Barbara Nadolski of Zarinska Newfoundlands. Proof of the dog's Date of Birth will be required.

Please contact Barbara directly by phone or email.
Tel: 01978 824029
Email:
Zarinska.newfies@hotmail.com

Recycle and raise funds for NNC Welfare
The Northern Newfoundland Club Welfare have teamed up with a recycling firm who deal with mobile phones, ink, lazer and toner cartridges. For items recieved they will donate money to NNC welfare.
Click on the logo to be taken straight to our page on the Recycle for Charity web site where you can enter your details to recieve a freepost envelope in which to send your recyclable items - you can put up to 5 mixed items in each envolope. If you are unsure if your items can be recycled you can check when you are on the recycling page.
There will be large collection boxes and freepost envolopes available from Welfare volunteers at certain events but you don't have to wait, get recycling now and help to raise much needed funds for the NNC's welfare work.