Membership Application
If you would like to become a member of the Northern Newfoundland Club then please click the link below to access the Application Form. This will need to be completed and posted to the Membership Secretary.
Please note Paypal cannot be used for Membership Applications.
Membership Renewals
DUE 01 JANUARY 2021
If you haven't already renewed your membership, you can now renew using Paypal.
Unfortunately there is a small surcharge of £2.00 on Joint, Single and Junior Memberships to cover the fee that they charge us.
Thank you for your continued support.
UpcomingEvents
Due to COVID-19 there are no upcoming events
Welcome to the Northern Newfoundland Club...
Formed in 1984, the Northern Newfoundland Club is the second oldest of the three KC recognised representative Breed Clubs in the United Kingdom. We promote all aspects of responsible and enjoyable Newfoundland ownership and organise numerous events and activities through the year ...
more
Announcements - April Champ Show & Working SubCommittee
It is with bitter regret that the Committee of the NNC has been forced to cancle the scheduled April Champ show due to current situation with COVID-19. This decision was not taken lightly, but we dare not risk the lives of our judge, the committee, and the exhibitors, especially since only a small percentage of adults will have been vaccinated by April.
The Kennel Club and the judge, Mr Stephen Hourihan have been informed, but it is not all bad news as we have been able to secure a new date for this show which will take place later in the year under the same judge.
Therefore, the following is the situation in respect of Champ shows in 2021:
The cancelled April Champ show from 2020 will be judged by Mrs Kirsteen Farrar on 13 November 2021
The cancelled April Champ show from 2021 will be judged by Mr Stephan Hourihan on 04 December 2021
This means that there will be TWO Champ shows held this year giving exhibitors two chances to qualify their dogs for Crufts 2022. We apologise for this unavoidable situation, but hope that you are all well and staying safe.
The committee of the NNC are currently looking for members who are interested in joining the new WSC (Working SubCommittee). If you have a depth of knowledge of working procedures (both Water & Draught) and would be willing to share your expertise with others, then plwase apply in writing.
The WSC is responsible for overseeing the running of the working side of the club on behalf of the Main Committee and is accountable to the Main Committee
If you are interested then please send your written application, outlining your experience/expertise to the club secretary, Jill Barker by email to either secretary@northernnewfoundlandclub.org.uk or startreknewf@aol.com.
Welfare Still Needs Your Help!
As you know the Northern Newfoundland Club Welfare believes that we all have a responsibility to rescue dogs in need; to educate the public about the desirability of adopting Newfoundlands as companions and family pets in the home.
None of this would be possible without the generous donations of money that we receive, and therefore we are appealling to you all to help by making a donation to NNC Welfare.
To find out more about the work and some of the costs involved, click the link below.
Our members and visitors to this our Club website are vitally important to our fund raising efforts therefore we have decided to raise the profile of Welfare by including below a new Welfare Paypal donation facility. We would be most grateful for any donation, however small.
Coming Soon - February 2021
The Northern Newfoundland Club is pleased to announce our first virtual online show to be judged in February 2021. The show includes Newfoundlands (classification) & all breeds (novelty). The show schedule and entry details to be published on 1st February 2021.
We would like to extend a warm welcome to the following judges:
Mr Ian Harland, Newfashion Newfoundland's, Australia (Newfoundland Classification)
Mr Stephen Gosling, Australia (Newfoundland Junior Handling up to 18 yrs)
Mr & Mrs Roy & Jo Bown, Nottingham UK (Novelty Classes)
Our judge Mr Ian Harland will study photos and or video entries of each Newfoundland before choosing his class winners first then making his decision to award BIS, RBIS, BPIS and BVIS. To be announced Sunday 7th March 2021.
Rosettes will be provided for all class winners, and entries are open to all (except NNC main committee)
Photo Competition - Beat the January Blues
With a new national lockdown now upon us the NNC have decided to run a photo competition. The theme of the competition is "Newfs Outdoors".
We all know that exposure to daylight is good for us since we can often become depressed during the darker months due to our limited sunlight exposure. Our brains love sunlight - it helps to regulate our sleep cycles properly. So when you can make sure you get yourself outside and get as much daylight as you can while it lasts! It's good for you (and will certainly make you more productive)! While you are out take a photo of your Newf and submit it - you might win one of three prizes we have, which are:
Dog Groomers Bible (Dogs and How to Groom Them Hardcover – Hilary Harmar)
The First-Aid Companion for Dogs and Cats (What to Do Now, What to Do Later, over 150 Everyday Accidents and Emergencies, Essential Medicine Chest, At-A-Glance Symptom Finder Hardcover - Amy Shojai)
Safety First Aid - 56-Piece Pet and Animal First Aid Kit
Entries close at midday on 31st January 2021 and will be judged by the NNC Main committee. Open to all except NNC Main Committee.

For further information please see the post on the NNC Facebook page
Good Luck!
Breeder Request
Could we please ask all breeders of puppies who are planning to have litters, or that have litters available to please let John Austin, our Puppy Liason Officer know at the earliest time as we are receiving a significant number of enquiries for puppies at this time.

Many Thanks.
NNC Main Committee
Online Dog Show - Update
Further the postponement of the NNC April Champ Show and following the cancellation of all the forthcoming shows over the next several weeks/months, the NNC have decided to run an online dog show. There will be 12 classes, with one class being scheduled each week for the next 12 weeks. The classes are as follows:
1. Prettiest Bitch
2. Most Handsome Male
3. Best Rescue
4. Best Action shot
5. The Veteran Award (8+ years)
6. Cutest Couple
7. Dog the judge would love to take home
8. Cutest Puppy (3-12mnths)
9. Funniest Fancy Dress
10. Child's Best Friend
11. Muddiest Dog
12. Little & Large
There will be no entry fee to enter any of the classes and for further information please visit the NNC Facebook page. the first class will be open for entry on Monday 30 March.
The following link will take you to the page where the winners are being posted each week
Announcement - Breed Education Co-Ordinator
The NNC Committee are pleased to announce that following discussion and agreement with both The Newfoundland & Southern Newfoundland Clubs as well as acceptance by the Kennel Club, the new BEC for Newfoundlands is Maxine Munday.
Maxine owned Newfies back in the 80's and 90's.
If you have any questions regarding the JCF or advice on the way forward with your judging then you will find her contact details on the Contacts page of this website.
On behalf of the NNC Committee
Club Open Show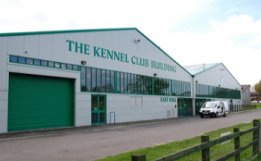 The NNC Open Show was judged by Mrs Liz Shears; We had an great entry of dogs, their was a very friendly atmosphere and the show was extremely successful.
All Results, Photos & Critiques are now online.
Breeder & Puppy Website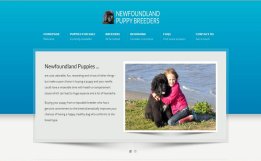 The Northern Newfoundland Club has recently launched a new website for breeders and puppy buyers.
The primary purpose of this web site is to put potential Newfoundland puppy buyers in touch with reputable and recognised breeders by steering them away from general online puppy sites (e.g. Epupz, etc).
Fundraising
Do you want to help raise funds for the Northern Newfoundland Club?
If you do then why not register with "Easy Fundraising". Then every time you shop online you will be raising money for the club. The NNC has now been enrolled. Please visit the site and register by clicking the link below:
"ZARINSKA" Golden Oldies Certificates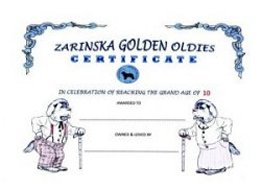 Do you own a Newfie that has reached the ripe old age of 10 years or more?
If so then why not apply for a 'Golden Oldies Certificate'. These certificates are kindly provided by Barbara Nadolski of Zarinska Newfoundlands. Proof of the dog's Date of Birth will be required.

Please contact Barbara directly by phone or email.
Tel: 01978 824029
Email:
Zarinska.newfies@hotmail.com

Recycle and raise funds for NNC Welfare
The Northern Newfoundland Club Welfare have teamed up with a recycling firm who deal with mobile phones, ink, lazer and toner cartridges. For items recieved they will donate money to NNC welfare.
Click on the logo to be taken straight to our page on the Recycle for Charity web site where you can enter your details to recieve a freepost envelope in which to send your recyclable items - you can put up to 5 mixed items in each envolope. If you are unsure if your items can be recycled you can check when you are on the recycling page.
There will be large collection boxes and freepost envolopes available from Welfare volunteers at certain events but you don't have to wait, get recycling now and help to raise much needed funds for the NNC's welfare work.