WHAT A DIFFERENCE A NEWF MAKES ....
Newfoundland Health Group Speciality, 26 & 27 September 2009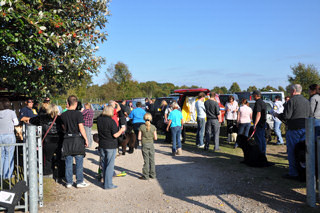 This Speciality was aimed at everyone interested in the Health issues which affect Newfoundlands and other Giant and large breeds. It was a HUGE success.
So how did it come about? What contribution did the Northern Newfoundland Club make?
It was organized by The Newfoundland Health Group, a group of Newfoundland enthusiasts dedicated to improving knowledge and understanding of health issues in Newfies and other giant breeds. The NNC are strongly represented on the Group since FOUR Main Committee members, Sue Sanders, Jill Barker, Jacqui Woodhall and Susie Raymond all serve on the core committee of 7 people which put together this amazing speciality. The other movers and shakers responsible for the detailed organization of the Speciality are Viv Pound, John Brown, and Tracey Jasper. The group maintain a website – check it out here – and in support of their aims, for the first time put on a two-day health (and other things!) bonanza at Chasewater Outdoor Centre on 26 and 27 September.
The group have been planning and fund-raising for the last year. Through a national campaign of advertising to attract Giant and Large Breed people and a thorough breakdown of their aims and outcomes, eventually The Kennel Club Charitable Trust said "YES!! We will support you to the tune of £2,000.00!!" Without their magnificent donation it would have been impossible to meet all the expenses incurred in bringing together foremost veterinary experts in Dermatology, Cardiology, Oncology and Orthopaedics.
But the Health Group didn't leave it at that – there was so much else going on! Importantly, Echo Doppler clinics were run by recognized cardiologists Sarah Smith and Vicky Ironside on both days (at a greatly reduced price) and it is encouraging to note they were both kept fully occupied all day and still had to work overtime!
It was particularly pleasing that so many other breed people participated – we had leading Mastiff, St. Bernard, Bernese Mt. Dog, Gt. Dane, Irish Wolfhound and Leonberger as well as Newfie people in the lectures and even getting dogs echo dopplered! Without exception they were impressed and full of praise for the dedication of Newfoundland enthusiasts on the Health Group, which reflected well on the breed.
W

hat a difference a Newf makes, welcome to all,


H

ealth, hearts and hips, we all had a ball!


A

chance to ask questions, to talk, learn and listen,


T

o speak to the experts, that was our mission!



A

lecture on skin gave us the itch, hot spots and fleas and allergies too,



D

r Neil McEwen soon gave us the clues,


I

f you travel down ears all waxy and glued


F

orget that nice lunch, now we all feel ill!


F

ollowed by Jo, our heart expert,


E

cho Doppler's the way she was quick to say!


R

emember to test all your breeding stock,


E

very newf deserves the best, you don't want a shock!


N

ORMAL is the reading Jo likes best, ABNORMAL is worst,


C

ardiac disease must be beaten first!


E

CHO DOPPLER NOW!!



A

n exciting MATCH followed, Jane Keeves was the Judge,



N

ewfies galore, pups, excited and cute,


E

ach baby a joy, Oh what a beaut!


W

e had a great time, no matter who won,


F

urry and friendly, with big wagging bums!



M

ore champions fought bravely, a SUPERMATCH game,


A

Landseer victory, BLUCHA's the name!


K

nocked out the others, Lindsay's first choice.


E

ach Newf was so special we all should rejoice!


S

o let's hear it for the SPECIALITY and all the special people who organised this fantastic weekend!!
Detailed notes on all of the health lectures will appear in the next NNC Newfletter.
Sandra Constable very kindly offered KC Good Citizen Bronze Award tests in the morning and the familiar K.C. green and white rosettes were much in evidence. There was a great attendance and everyone seemed to enjoy themselves hugely. In the afternoon after the talk everyone was invited to enter a Match judged by Jane Keeves which organized by the NNC and then to watch a Supermatch judged by Lindsay May between leading UK Champion and CC winning dogs and bitches. The NNC had to ask the Kennel Club for a special licence to hold this event, which took three months to come through! Despite the fact that everything was very light-hearted, they put on a real spectacle for us and – dare I say it – showed us how it should be done when you take your showing very seriously. All praise to them for coming to support the event.
Match - judged by Jane Keeves.

Match Winner
Loraine Ratter's Seafar Mambo

Puppy Match Winner
Rob & Cheryl Hobb's Alphabear Thunderstruck
Supermatch - judged by Lindsay May.

Supermatch Winner
Anne Springthorpe's Darkpeak Raging Storm from Millthorpe, JW

Supermatch Reserve
John & Rose Evan's Ch. Abbeydore Sea Fiore
and finally, the evening ...
A superb meal was followed by bingo, 'every one a winner' raffles and quizzes (score Chasewater won 2, Canis Major won 1 – sorry guys!) and rumour has it some people still had enough energy to go next door to the Sailing Club and drink half the night away – don't know where they get the energy from myself!
All four weekend speakers were full of praise for the many Newfoundland owners and breeders who are working hard to improve Health, and it was fascinating to share information with the owners of other breeds like Mastiffs and St. Bernards.
The background events on Sunday included a ramble round this superb water park and Level 1 Draught Tests most efficiently run by Neil Jasper from The Southern Newfoundland Club. Thank you Neil! This gave novices a chance to have a go at carting and everyone really enjoyed the challenge.
And now for the plaudits: Have I mentioned the food? Chasewater working group slaved over a hot stove all weekend and catered what probably amounts to hundreds of meals ranging from a bacon buttie to a proper sit-down dinner. You done good, guys! Thanks especially to Liz, their major general!!
The event as a whole was only possible because of generous financial support from the Kennel Club Charitable Trust, the Northern Newfoundland Club, the Southern Newfoundland Club, the Scottish Newfoundland Club and the Newfoundland Club of Ireland. In addition there were many private donations and also superb gifts of prizes and auction goods including a Plate from the Emerald Isle Newfoundland Club.
And lastly, can I thank the real heroes of this event, those people whose commitment and love of the breed enabled them to put in months of work and effort to produce this superb event – and managed to make it fun as well. To the people who didn't take advantage of their labours – you missed a good'un!