Class Winners
Click on the thumbnails to view the full size images or to start a slideshow
Dogs
Minor Puppy Dog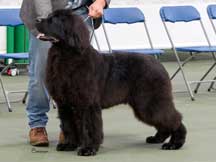 Puppy Dog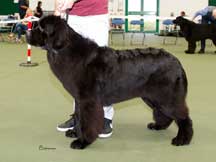 Veteran Dog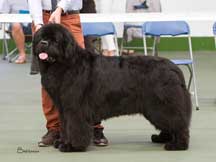 Special Veteran Dog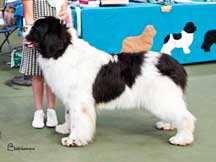 Junior Dog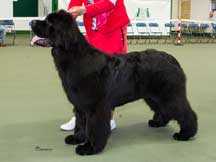 Graduate Dog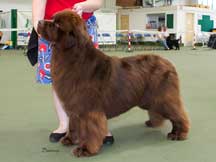 Post Graduate Dog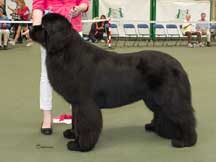 Limit Dog
Open Dog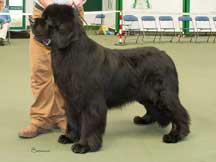 Special Open Black Dog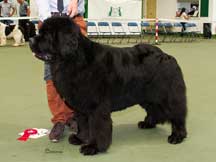 Special Open Brown Dog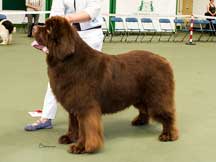 Special Open White & Black (Landseer) Dog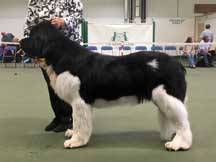 Bitches
SHOW AWARDS
DOGS

Award
Dog
Owner
BEST DOG
Wyrleybears Peter Pan for Bearhugs JW
Mrs J A Woodhall
RES BEST DOG
Ch Albanywater Sea Dancer at Davistell ShCM
Miss S Baxter & Mr D Morris
BEST PUPPY DOG
Sandbears on the Money
Mrs S Blake
BEST VETERAN DOG
Ch Albanywater Sea Dancer at Davistell ShCM
Miss S Baxter & Mr D Morris
BEST BLACK DOG
Wyrleybears Peter Pan for Bearhugs JW
Mrs J A Woodhall
BEST LANDSEER DOG
Dirty Dancing De L'iliade et L'odyssee
Mr G & Mrs P Leech
BEST BROWN DOG
Zentaur Land of Confusion at Fieldbears
Mrs C M Schofield

BITCHES

Award
Dog
Owner
BEST BITCH
Ch Hilaiwana Cancrimo
Mr P Angelides
RES BEST BITCH
Sandbears Hawiian Hot Stuff to Sheenmarie
Mrs S M Pallett
BEST PUPPY BITCH
Disoranto Juliana Blue at Darkpeak
Mr A G & Mrs K J Farrar
BEST VETERAN BITCH
Ch Swanpool Tiamo Pasticcino JW
Ms D E Sarson & Miss J E Watts
BEST BLACK BITCH
Ch Hilaiwana Cancrimo
Mr P Angelides
BEST BROWN BITCH
Ch Newgradens Llori Nanya JW ShCM
Ms D Ball
CLASS RESULTS &amp CRITIQUES
It is special to be asked to judge a breed club show for your own breed and I am very grateful to the Committee for the invitation and to all of the exhibitors who gave me a super entry in numbers and in terms of quality, including several Champions both established and newly made-up. I was delighted with my final lineups and while I had little hesitation in choosing my Best of each Sex, it was a tough and very close decision for the Reserves and the Best Puppy. My thanks also goes to John Lloyd and John Evans who stewarded for me keeping me organized and things moving along and to the entire show team of the Northern Newfoundland Club who work hard to make these shows such a success.
Since this was a breed club show perhaps I could make a few observations; The Kennel Club Breed Standard for Newfoundlands is remarkably vague in certain respects, especially when compared to many other breeds. For example, skull proportions for muzzle: top skull are NOT specified, eye shape is NOT specified, just that they should be relatively small, ear shape is NOT specified, again just that they should be small, body proportions are NOT specified (unlike many breeds where height to length ratios are given) and perhaps most significantly heights for dogs and bitches are expressed as AVERAGES which by definition means some may be lower and some higher. This combines to allow a wide variety in types all of which could be construed as correct under the Breed Standard. Judges (and breeders!) have little choice but to fall back on their personal preferences and what they believe to be right for the breed. Despite the historic nature of the breed, whose written Standard has changed very little over many years, I believe there is an argument to be made for more clarity in the Standard.
With the above in mind, I look for a powerful animal with the strength and construction to do the work they were purposed for and the gentleness of nature which so attracts me to the breed. If you have never experienced being towed through the water behind a well made and well muscled Newfoundland, it is an experience I would highly recommend, you'll never forget it. You can feel the force in the eddys coming back through the water on every paw stroke and it gives you an appreciation of the power which I hope to see evident in movement in the show ring.
I believe the breed has seen a general improvement in recent years, as is evidenced by the breed's increasingly regular appearances at or towards the top in the Group competitions. I think that is thanks in part to the breeders and exhibitors who have gone to the trouble and expense of importing dogs and in the process widened the gene pool. There was quality in numbers in the young dogs and bitches coming through and the competition for top honours in the next few years is going to be fascinating. The loose eyes which were becoming prevalent and had the breed on the KC Health Watch List seem to have largely disappeared … whether that is because those dogs are not shown or because of selective breeding I can't say, but I hope it is the latter.
I have three general concerns for the breed. First, that forechests are not always as well developed as I would like to see. If I put my hands across the forward points of the shoulders and then have to go feeling for the prosternum I'm worried. The prosternum is such an important attachment area for the muscles, its size and position has a huge impact on the front end power and movement. Second, I expect to see convergence towards a centerline when the dogs move, which affects the foot placement, but there is a world of difference between slight toe-ing in (which the Breed Standard says is acceptable … but doesn't say is desirable) when in motion and the elbowy/wristy front movement which seems more common than I would like to see. Forelimbs coming through clean and straight should be the thing to aim for. Have someone take a low angle video of you moving your dog directly towards the camera then play it back in slow motion and you will have a better idea of what the judge is seeing when the dog is coming towards. Finally, not all of the ears could be described as "small" so something to watch out for in the future in selecting show/breeding animals.
In conclusion may I congratulate the exhibitors on presenting me with dogs that had super temperaments, were kindly handled, beautifully prepared and in great condition, you do justice to your dogs and they are a credit to you.
Dogs
Minor Puppy Dog (5,2)
1st - Mr J Noble - Sandbears Best of Both: 8½ month old Black with lots of promise. A super shape with good angulation in front with good forechest matched by excellent rear angulation all connected by an excellent topline, short coupled and with a nice fallaway behind. Attractive head with squareness of muzzle and a perfect dark eye. Really impressed in movement with perhaps the best front extension of all of the dogs I judged today.
2nd - Mr G & Mrs P Leech - Mileoak Samwell Tarley: Black. Another super puppy at 7½ months old. Very good size for his age and looking like he will have excellent bone. Head developing nicely with a good dark eye, even teeth, strong neck of good length and good angulation front and rear. Very good in profile though not quite the topline of 1. Moved well for a youngster
3rd - Mr A Walczak & Miss W Swiekatowska - Wilbears Aladdin: Black. At 6½ months old, the baby of the class and hence not the substance of 1 and 2. Head yet to develop and has a slightly lighter eye. Elbows tucked in but tends to turn front feet out and moves a little close behind. Still lots of time to develop.
Puppy Dog (5,0)
1st - Mr R Furnell - Merrybear Keystar of Bebecova: A Black almost 12 months old who won this class on his well developed masculine head with attractive expression, good bone and excellent width and depth all through. Movement needs to tidy.
2nd - Ms S Blake - Anchorbays Custom Made in the USA for Sandbears (Imp USA): Would have been my class winner but I penalised poor dentition. In all other respects a super puppy 9 months old with good substance and an excellent well proportioned outline with firm topline. Good angulation, particularly in the rear and a strong animated mover.
3rd - Mr G & Mrs P Leech - Mileoak Di Ya Think I'm Sexy: Another quality Black puppy of 8½ months. Good head with a dark eye and well set ears. Strong neck and shoulders, well ribbed with good rear angulation. Slightly longer in body than 2. and topline not as level as a result. Moved well.
Res - Mr D & Mrs B Hughes - Bridgestone Kings North for Bodrhonyn:
VHC - Mr P J & Mrs P D Hunter - Bridgestone Knokin It Stiff:
Veteran Dog (2,1)
1st - Miss S Baxter & Mr D Morris - Ch. Albanywater Sea Dancer at Davistell: 8 year old Black in excellent coat and super condition. Small eye, short muzzle and good breath of skull on a strong neck. Super bone with big well padded feet, well ribbed, strong topline and well muscled quarters with short hocks. Moved with powerful, purposeful strides and never flagged. Best Veteran Dog and Reserve Best Dog. Best Veteran In Show over an excellent bitch on his strength in movement, I kept waiting for him to slacken given his age but not a single sign of tiring even at the end of a long warm day.
Special Veteran Dog (1,0)
1st - Mr G & Mrs P Leech - Dirty Dancing De L'Iliade Et L'Odyssee (Imp): Now 10 years old, this White & Black still has great appeal for his attractive head and expression with the preferred blaze and good clean markings. Good substance, strong neck and shoulders, good width all through, good turn of stifle and tail just long enough. Showing his age in his dentition but still happy to step out around the ring very well presented by his Junior Handler. Best White & Black Dog and dog and handler got a well deserved round of applause from ringside when later awarded Best White & Black In Show.
Junior Dog (4,1)
1st - Ms S Blake - Sandbears on the Money: Well named as he certainly is 'on the money'. Still only 10½ months but easily holding his own in a Junior class and I fully expect to see him challenging for top honours as he matures. Attractive head with dark eyes and a gentle expression, good length of neck. Has size, substance and lovely big feet, good width and depth of chest, well placed shoulders, well ribbed and strong wide rear. Excellent topline with good slope to croup and good rear angulation. Really shows his construction on the move, extending in front and driving from the rear. Easily Best Puppy Dog and in a close competition with a quality bitch puppy I preferred his driving movement and made him my Best Puppy In Show.
2nd - Mrs W V Austin & Miss S Baxter - Going for Gold Tender Ebony: Another quality Black youngster just turned 12 months. A good well-developed head with mid-brown eye. Excellent size and substance with big feet, strong neck and shoulders, well ribbed. Firm topline and looks good in profile. Slightly better angulation in rear than in front but still moved well.
3rd - Mr & Mrs C A Sayle - Gunners Newf Above 'N' Beyond to Infinity Bear: Almost 15 months old Black. A different body shape to 1 & 2, a little shorter on the leg. Strong head with short broad muzzle, good bone and feet, well developed shoulders and strong back. Front angulation better than rear but moved well enough.
Graduate Dog (5,2)
1st - Mrs C M Schofield - Zentaur Land of Confusion at Fieldbears: 21 months old Brown who impressed me immensely with his super powerful driving movement. Looked like he could flatten anything in his way without breaking stride. Attractive masculine head without coarseness and the lighter eye typical of Browns. Excellent substance and well muscled with strong shoulders, very good angulation and width and depth of chest and body. Slightly longer in topline but held level and enough length to allow the rear to come through. Best Brown Dog against another Brown I really liked and Best Brown In Show.
2nd - Ms M Hilton - Spirebear Duke of Destiny: The best head in this class and another quality Black dog 3¾ years old. Good skull width and small dark eye. Strong neck, good shoulders, substantial bone, very good topline and slope to croup. Just lacking a bit in rear angulation. Moved well and nicely presented.
3rd - Mrs Z Pascoe & Mrs A Courage - Camnoire Charge: A 2½ year old White & Black tall dog who gives the appearance of being rangy because of length of back and longer second thigh which elevates his rear. Unfortunately was crossing over in front and close behind in movement today which was a shame as he has a lovely head and expression, excellent clean markings and good front angulation.
Post Graduate Dog (4,1)
1st - Mrs E M Dickson - Zentaur Der Kapitan Wisperedomen JW: Black litter brother to GD winner but taller and more impressive in profile. Comfortable winner of this class, he has a super head with a kind gentle expression and good eyes. Strong neck and well placed shoulder, excellent substance and big well-shaped feet. Deep ribs and well angulated rear. I would have expected a little more width given his height and this was reflected in his movement.
2nd - Ms J Cragg - Spirebear True Spirit: Litter brother to 2nd in GD and very much in the same mould (unintentional pun on Sire's name). Slightly shorter on his leg but with the same strong neck and shoulders and a powerful well-ribbed body. Also moved well.
3rd - Mr R C Burton - Vodahond Against All Odds: Almost 2 years old Black. Close call between 2 and this dog. Taller and with a deeper muzzle, he has a good eye and good length of neck. Good angulation in front and level topline. Good depth of chest and substance but feet not as tight and movement not quite as good as 2.
Limit Dog (5,2)
1st - Mrs J A Woodhall - Wyrleybears Peter Pan for Bearhugs JW: Catches your eye and although he is only 2¼ years old looks so impressive and every inch an excellent example of the power with gentleness of this breed. His mouth may not be his fortune but pretty much everything else is. He has size and substance and a super head with small tight eyes and a noble expression. Great bone and excellent feet with short toes. Strong front and powerful shoulders with depth and width of chest, good ribs and an excellent topline with gentle slope to croup and excellent width all through. Balanced angulation front and rear he moved with that slightly rolling gait and was presented in excellent straight coat and condition. I'm sure he has a lot more winning to do in the show ring but I would love for the next time I judge him for it to be in the water, he has the size and construction that totally fits him to be able to do the work he was bred for. He was the stand-out dog in my final lineup winning Best Dog and Best In Show and later Grand Best In Show.
2nd - Mrs L & Miss A Newton - Stelamah Quiang at Shlarra JW ShCM: Black dog almost 2¾ years old. An altogether lighter and smaller dog than 1. and out of coat which accentuated that. At least it was a case of WYSIWYG (what you see is what you get) and what you see is a sweet almost feminine head and kind expression with a dark small eye, good length of neck and good angulation front and rear which enabled him to move with ease and good reach.
3rd - Mrs A P Springthorpe - Merrybear Giovanewhiz Millthorpe: Just over 4 years of age, this Black dog has a good strong head with a dark eye and a powerful neck connecting it to a well constructed body of good width with a firm topline and good rear angulation. Just doesn't seem as balanced between head and body as I would like and he wasn't keen on moving today.
Open Dog (3,0)
1st - Mr & Mrs C A Sayle - Ch Baranova Top Gallant: A Black dog who I judged before he'd won his title and awarded him a BoB. Now just turned 4 years of age he still has that excellent driving movement which impresses. Short broad muzzle and good eye. Not the tallest of dogs but has good bone, strong neck and shoulders, good width all through, firm topline and good angulation. Really comes into his own when moving.
2nd - Mrs W V Austin - Baranova Big Bopper of Elbear JW ShCM: Another 4 year old, taller than 1 with a pleasing outline. Not the head type I like as too much below the muzzled to look balanced with top skull. Well boned with a strong neck and shoulders and a good topline. Moved okay with lightness of step but not with the drive I might have expected from his construction.
3rd - Mr I L & Mrs R E Hutchinson - Wuzibears Miami: Soon to be a Veteran at 6¾ years. Preferred his head shape to 1 & 2. Excellent bone and big feet, good shoulders and rear angulation but a little soft in topline. Not putting his best effort into his movement and was toeing in more on his front right.
Special Open Black Dog (3,2)
1st - Miss S Baxter & Mr D Morris - Bearscove Sea Captain at Davistell: 3½ years old Black. Attractive head with a small mid-brown eye and a gentle expression. Strong neck which could be a fraction longer. Well off for bone, well ribbed and good width all through. Excellent muscle mass and tone but lacks a bit in rear angulation which reflects in his movement.
Special Open Brown Dog (1,0)
1st - Miss McPhail - Spirebear Glden Barley: 3¾ years old this substantial male has really come into his own as he has matured and has great appeal. Short broad muzzle, good size and shape to skull, level bite and quite a good eye colour for a Brown. Excellent bone, large well shaped feet, size and proportions impress with good depth and width of chest, strong through neck and shoulders and a good topline. Well muscled and looks every bit the working capable dog he is. Moderate angulation but balanced front and rear so moves with the same balance.
Special Open White & Black Landseer Dog (2,1)
1st - Mrs Z Pascoe & Mr A Courage - Camnoire Charge: See Graduate Dog
Bitches
Minor Puppy Bitch (6,5)
1st - Mr G & Mrs P Leech - Mileoak Sansa Stark: A very attractive 7½ month old Black puppy with that 'chocolate box' look and puppy coat. Pretty head with a super dark small eye, clean muzzle and good dentition. Ears appear a little large but I suspect she will grow into those. Good length of neck and flow of shoulders into backline. Good bone for her age and tidy feet. Moderate angulation, a little 'bum high' at present but her topline is strong. Typical puppy movement but shows a lot of promise.
Puppy Bitch (5,1)
1st - Mr A G & Mrs K J Farrar - Disoranto Juliana Blue at Darkpeak: An exceptionally pretty Black puppy, just coming up to 12 months with an impressive show record and it is easy to see why. Feminine in head with a sweet expression and good mouth, eyes a good colour but could be a fraction tighter, ears set well back. Good neck and an exceptional front, perfectly parallel legs, neat feet and well up on her pasterns. Good angulation front and rear with elbows tucked in and a super topline. Very nicely presented and handled well on the move at the right pace to show off her balanced movement. Best Puppy Bitch and a very close call in the competition for Best Puppy In Show where I just favoured the more driving movement of the male. Has a bright future ahead.
2nd - D G Aplin - Merrybear Krystal for Alsden: Litter sister to my Puppy Dog winner. Well developed head but still feminine, eyes a good colour and open rather than loose showing a little haw in the outside corners. Good length and strength in neck, very good bone and feet, width all through and strong quarters. Good topline but with a slight wave to her coat which distracts. Moderate angulation but moved well enough.
3rd - Mrs P Franklin - Shinglebay I've Gotta Be Me: 11 months old Black, taller than 2 but not as heavy in bone and smaller feet. Pretty head with a good dark eye and good reach of neck. Good proportions and an excellent topline but could do with a little more angulation. Moved well with a lightness of step.
Res - Ms M C McCafferty - Mccaffabears Pixie Dust
Veteran Bitch (0,0)
No Entries
Special Veteran Bitch (3,2)
1st - Ms D E Sarsons & Miss J E Watts - Ch Swanpool Tiamo Pasticcino JW: I was delighted to have the opportunity to go over this prolific CC winning bitch who I have long admired from ringside. She is now 9 years old and in all the years I have watched her, I have never seen her give less than 100% for her owner/hander and today was no exception. A lovely head which is completely feminine and an expression which instantly engages. Good length of neck and shoulder placement with good width of chest. Bone in good proportion to her size, neat feet and still nicely up on her pasterns. Strong topline with close coupled quarters. Nicely angulated and completely balanced front to rear which is demonstrated in her clean effortless and happy movement holding her topline with proud head carriage. In excellent condition, she still has that 'look at me' ring presence and I was happy to have her as my Best Veteran Bitch.
Junior Bitch (10,3)
1st - Mrs C & Mr D Baldock - Gunnersnewfs All or Nothing: Almost 15 months old Black with a feminine head, good mouth, dark eye and sweet expression. Good length of neck and straight front, very good bone, body width and excellent feet, well up on her pasterns. Very nice proportions with good angulation, a strong topline and fallaway behind. Straight coat beautifully presented. Moved well and should do very well as she matures.
2nd - Mrs D E Sarson & Miss J E Watts - Millthorpe the Secret at Swanpool: 13 months Black. Close decision between 1 and 2. Another very pretty bitch with a lovely outline and a little more leg under her. Slightly lighter eye but still a very feminine attractive head well carried on a neck of good length. Good bone and feet and an excellent topline. Also moved well.
3rd - Mrs J Cameron - Camnoire Final Verdict: Completed a trio of very attractive young bitches all with excellent toplines. Another Black almost 15 months old but looks a little less mature. Pretty head with good dark eyes, sufficient bone and good feet with short toes. Squarer in outline and not as angulated as 1 and 2 so didn't move with quite the same extension but still balanced.
Res - Mrs A & Mr S Adair - King of Helluland Love Actually at Darebear (Imp Svk):
VHC - Mr D Duff - King of Helluland My Queen (Imp Svk):
Graduate Bitch (7,1)
1st - Mrs S M Pallett - Blessed Heart Tender Ebony for Sheenmarie (Imp Rom): Almost 19 months Black. Not the head type I usually go for in a bitch but still pretty with a dark eye, good mouth and a well proportioned skull. Good chest with depth and width, strong shoulders, big feet, excellent topline with slope over strong quarters. Good angulation and moved best in this class
2nd - Mrs H Webb - New Angels Pretty in Pink JW (imp Bel): 21 months Black, more substantial than 1. with excellent bone and big tidy feet. Good mouth and dark eye, strong neck, well built front and excellent topline. Slightly longer in back but perfectly acceptable in a bitch. Front movement could have been better.
3rd - Mrs J Cameron - Camnoire Final Verdict: See Junior Bitch
Res - Mrs J McPhail - Merrybear Just a Flirt
VHC - Mrs A & Mr S Adair - King of Helluland Love Actually at Darebear (Imp Svk)
Post Graduate Bitch (6,0)
1st - J W & K Burridge - Bagglebears Moonshine: A Brown coming up to 4 years of age and my surprise package of the day as I don't recall seeing her in the ring before. She has a slightly loose eye which shows more because of pink third eyelids … I took this into account in my assessment and still decided she deserved first place based on her other great qualities. This bitch is all about size, strength and construction to do a day's work and when I checked later it was no surprise to discover she is a Section C Water and Level 4 Draught dog. Strong but feminine head with a reasonable eye colour for a Brown. Excels in bone and overall substance with strength and width in chest, well laid shoulder, well sprung ribs, rock hard level topline, strong broad quarters, good angulations and a nicely proportioned outline. Handled well and with a bit more animation in her movement would certainly catch the eye of other judges
2nd - Mr G J, Mrs T A & MessesE G & F L Coldwell - Zentaur Ain't No Thang JW: Quality Black bitch 21 months of age. Attractive feminine head with a dark eye. Good substance, good shoulder, slightly longer in back than 1. and not the same topline but strong in quarters with a slope to croup and well set tail. Moved very well.
3rd - Mrs J A Woodhall - Wyrleybears Wendy for Bearhugs JW: Litter sister to my BIS winner and lots of good qualities. A pretty bitch with a charming expression, good neck, white chest marking perfectly acceptable by the Breed Standard, well boned for her size with good feet and a level topline. Well handled and moved well enough.
Res - Ms M C McCafferty - Dearchary Twist N' Shout
VHC - Mr D Duff - Bearisle Margaret Macdonald
Limit Bitch (2,0)
Two very different types but both equally correct according to the breed standard.
1st - Miss L & Mr J Smith - Comfortcove careless Wispa JW: A smaller Black bitch 3¼ years old and very pretty. An attractive head and body shape with everything in proportion, bone appropriate to size. Good angulation and topline. A little out of coat. Moved with activity and neat balance.
2nd - Mrs M Black - Camnoire Crush Blackcoast JW: A much bigger and more substantial Black bitch 2½ years old. Good head with broad muzzle, good eye and nice expression. Longer in back than 1. Moved a little close behind today but still a quality bitch.
Open Bitch (4,2)
1st - Mr P Angelides - Hilaiwana Cancrimo JW: A Black bitch not yet 2 years old but already looking the finished article. My notes say "fabulous". Good skull size and shape with width to muzzle. A powerful looking bitch, well proportioned with super bone, big tight feet, a good forechest, strong neck and shoulders and an excellent topline. Well ribbed with width all through and well made quarters. Top that off with a dense straight coat and she looks like the Champion she is. Best Opposite Sex In Show and would have been closer to the BIS but didn't put 100% into her movement in the challenge.
2nd - Mrs P Franklin - Shinglebay High Hopes ShCM: 4 year old Black. Something rather appealing about this bitch who has a super sweet head, gentle expression and good mouth. Neck is a good length, good bone and tidy feet. Good depth to chest, well ribbed and firm topline. Not in full coat, which does have a wave. Moved with a lightness of step and showed me a clean pair of pads going away.
Special Open Black Bitch (5,0)
1st - Mrs S M Pallett - Sandbears Hawiian Hot Stuff to Sheenmarie: Coming up to 3 years old, this Black bitch combines prettiness with sound construction in a very attractive package. Totally feminine in head and expression with a clean muzzle and good eye. Good neck and well laid shoulders, plenty of bone and good feet. Strong topline, good ribs and well made quarters. Coat of correct texture and well presented. Moved very well as her construction would suggest. Nothing exaggerated or overly flashy about this girl, just honest quality which earned her Reserve Best Bitch.
2nd - Miss N Owles & Mrs C Bristow - Zentaur Love Me N'Mend Noirbear: 2¾ years old Black who put in a good performance and was close to 1. Quality bitch with a shorter muzzle, a good eye and expression. Has great substance with width all through and good angulation. I'd like just a little more length in upper arm to balance her body length. Well handled showing good movement.
3rd - Mrs P Franklin - Shinglebay High Hopes ShCM: See Open Bitch
Res - Mrs M Black - Camnoire Crush Blackcoast JW
VHC - Mr D Duff - Bearisle Margaret Macdonald
Special Open Brown Bitch (2,0)
1st - Ms D Ball - Ch Newgradens Llori Nanya JW ShCM: Four year old Brown capable of turning heads. Looks a picture stacked, rock solid and not a hair out of place. Broad skull, even teeth and typical eye colour for a Brown. Strong bone, beautifully straight in front with big well-shaped feet, well up on pasterns, well angulated, longer in back but perfectly level, good width and ribs and strongly built quarters. Thoroughly deserves her successes and today, as always, moved with a flow and grace with total focus on her owner/handler. Best Brown Bitch and very close for Best Brown In Show which went to the male who was demonstrating exceptional driving power in his movement.
2nd - J W & K Burridge - Bagglebears Moonshine: See Post Graduate Bitch
Special Open White & Black Landseer Bitch (2,2)
No Entry
Other Competitions
Brace (2,0)
Always entertaining at the end of the day.
1st - Mr & Mrs C A Sayle - Running laps around the large combined ring, this pair of Black males did a good job of keeping in step and made a nice matched pair.
2nd - Mr D Duff - A pair of Black bitches who stepped out well with a sporting handler.
GRAND RESULTS & CRITIQUE
Grand Best in Show
Mrs J A Woodhall - Ch Wyrleybears Peter Pan for Bearhugs JW:
Grand Reserve Best in Show
Mrs J Cameron - Ch Nandobears Im what Im Camnoire JW ShCM:
Grand Best Puppy in Show
Mr A G & Mrs K J Farrar - Disoranto Juliana Blue at Darkpeak: