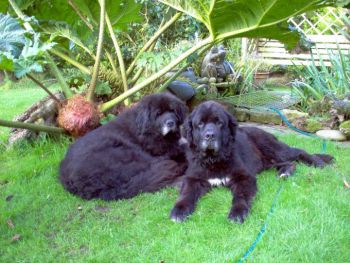 Welfare
Mission Statement
Northern Newfoundland Club Welfare is driven by a passionate belief that we all have a responsibility to rescue dogs in need, and to educate the public about the desirability of adopting Newfoundlands as companions and family pets in the home:
We facilitate placing Newfoundlands in need in loving, responsible, forever homes.
We specialize in the rescue and placement of abused, unwanted and abandoned dogs as well as rehoming dogs from families who can no longer afford to keep their dogs owing to bereavement, illness or financial problems.
We provide continuing support to new owners and families after placement to ensure a successful adoption. We accept that some families will require financial support for veterinary costs after adoption.
We support, welcome, and encourage an active, organized volunteer base of fosterers and transporters who share the passion and vision of finding loving, responsible, forever homes for dogs to live out their natural lives.
We stress the importance of spaying and neutering once maturity is reached as a means of controlling the number of animals which can be used and abused by puppy farmers and back yard breeders.
We work closely with other national Newfoundland Breed Clubs' welfare coordinators to find suitable homes for every dog. We never discriminate on the basis of health or age. By involving our members and all Newfoundland lovers nationwide, NNC Welfare works to raise the public's awareness of the plight of homeless animals as well as realizing the benefits of adopting a Newfoundland in need.
One of the most challenging aspects of our welfare work is the size of our veterinary bills. It is not unusual for the Club to support some dogs with major problems for long periods. For example, one young dog whose serious skin condition has cost £3,406.71 since 2014.
During the financial Year 2014/15 we spent £10,041.07 on veterinary bills and in the 2015/16 financial year £9,393.73 in just the first 9 months. The main health problems are orthopaedic and skin. We also have eye problems requiring surgery, PTS, cremation costs (thankfully those are extremely rare and generally because of dangerous irredeemable temperament issues), microchipping, vaccinations, pyometra, etc..
Due to advances in technology and the skills of vets more and more dogs can be treated for all sorts of problems BUT this inevitably leads to higher veterinary costs and feeds through to increases in the cost of insurance, especially for giant breeds. Regretably, growing numbers of owners cannot afford to insure their dogs and hence they come into welfare where the Club shoulders the burden.
Will you help?
A small amount can make a BIG difference! We are a non-profit rescue that relies solely on volunteers and donations.
We are asking for your help with funds to continue helping dogs in need. It is not just food and vet bills that have to be paid, we have to cover the costs of insurance, fuel, telephone calls, electricity, flea and worm treatments, grooming equipment, bedding, collars and leads (so many rescue dogs come in without so much as a collar!), toys and treats. We also need equipment for our newly built Club kennels which were paid for by a member's generous legacy in 2015.
We constantly have to find funds for brooms, shovels, feed bowls, disinfectant, etc. as well as general maintenance of the kennels and fencing – this all costs money. Sadly the list is endless and that is why we ask for your support to enable us to continue to help and care for Newfoundland dogs in need.