Previous Winners
2013
Joalta Moon Mission - "Louie"
Owners: Mrs A Fitzgerald
2012
Joalta Moon Mission - "Louie"
Owners: Mrs A Fitzgerald
2011
Bearhugs Falcon - "Falcon"
Owners: Brian & Jacqui Woodhall
2009
Joalta Moon Mission - "Louie"
Owners: Kevin Tucker & Angie Fitzgerald
2008
Bearhugs Black Mountain - "Raine"
Owners: Mr. & Mrs. Marcus Sutherington
2023 Contenders
Please tally up your points and send them to both Mrs. Karen Hietschold and Mrs. Susan Marsh for verification. GOOD LUCK!!
Kitson Trophy
Dedication
"I was delighted to donate a trophy in Memory of my beloved Brian.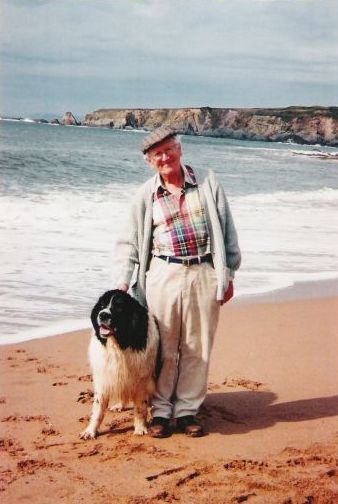 I bought Brian his first Newfoundland in 1970 from May Roberts of the Harlingen affix. Caesar was a Landseer and was an excellent choice of dog for us with three children. We found The Newfoundland Club the same year. In 1970 there was only showing and Ragley Water Tests that we could do with Caesar. Brian was over the moon when Caesar was overall winner at Ragley and his name is on the trophy, Harlingen Cabot.
Over the years we wanted a Northern Club and Brian and I were founder members of the Northern Newfoundland Club. Brian and other members formed Canis Major Water Group and this has evolved into carting as well.
Brian became Club President at a very difficult time for the club and until his untimely death in 2005 was extremely proud to do so.
Brian judged Championship shows and all levels in water and draught work. The Newfoundland breed was his life and this trophy is awarded to the Newfoundland who takes part in all these elements."
ANN KITSON
Points system
FOR NEWFOUNDLANDS WHO COMPETE IN ALL THREE DISCIPLINES


SHOWING

DRAUGHT TESTS

WATER TESTS
SHOWING POINTS
ALL CHAMPIONSHIP SHOWS
BREED CLUB AND ALL BREED OPEN SHOWS
1st = 5 points
1st = 3 points
2nd = 4 points
2nd = 2 points
3rd = 3 points
3rd = 1 point
4th = 2 points
5th = 1 point
BOB = 5 points
BOB = 3 points
CC = 4 points
RBIB/BOS = 2 points
RES CC = 3 points
GROUP PLACINGS AT ALL BREED OPEN SHOWS OR CHAMP SHOWS:
G1 = 4 points, G2 = 3 points, G3 = 2 points, G4 = 1 point
IN ADDITION: MAKING THE DOG OR BITCH INTO A CHAMPION = 10 points
WORKING POINTS
WATER TEST PASSES
DRAUGHT TEST PASSES
SECTION A = 2 points
BEGINNERS = 2 points
SECTION B = 4 points
LEVEL 1 = 4 points
SECTION C = 5 points
LEVEL 2 = 5 points
SECTION D = 6 points
LEVEL 3 = 6 points
SECTION E = 8 points
LEVEL 4 = 8 points
MULTIPASS IN ANY SECTION B-E = 10 points
MULTIPASS IN ANY LEVEL 2-4 = 10 points
Rules:
The trophy is open to all NNC members
The trophy will be awarded at the NNC AGM
Points will be accrued from AGM to AGM
Working points can be gained from any tests, water or draught, which uses the same rules and regulations as the NNC
Where a dog has been entered in more than one section in one day, only the points from the highest test will qualify for the trophy, e.g. where a dog has entered B, C, D and E in one test weekend, passes B and E on one day and C and D on the following day, only the points for E from the first day and D from the second day will count towards the trophy. This does not apply to Draught as only one level can be entered per day,(see Draught regulations)
Showing points can be gained from any KC licensed show
Points must be submitted at least seven (7) days before the NNC AGM
The committee of the Northern Newfoundland Club reserve the right to alter the criteria for this trophy, any alterations will be published on the web site
A minimum of six points to be gained in each discipline