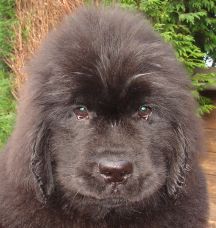 Useful Links
Further Advice
Choosing a Puppy
You have decided the Newfoundland is the dog for you - how to set about choosing the right one
.
The temperament of a Newfoundland is of such high importance that it gets a mention in the Breed Standard. The original 'Nana' from J.M.Barrie's Peter Pan stories was the nursery guardian of the Darling's children, so even as far back as 1903 the Newfoundland had a reputation of extreme gentleness with their young charges along with an instinct to protect them. So first and foremost temperament must be of the highest priority in choosing your puppy.

Dog or Bitch ?
If you already have a male dog at home you may not want to introduce a bitch to him or vice-versa, there are plus and minus points for either sexes.
If you have decided on one particular breeder and only they will do, then you may have no choice in the sex of the puppy, as there is no guarantee in the amount of dogs or bitches in any litter. If the breeder has a long waiting list this could reduce your choice too, the same could be true for colour.
Do you want to work your dog?
There is either draughtwork (pulling a cart) or waterwork (swimming to retrieve objects and people), you may prefer to have a puppy from parents that have proved themselves in these disciplines.
Do you want to show your dog?
No breeder will guarantee you a future show champion, but it is only fair to let breeders know that you intend to show your puppy. With their expert eye for their own lines at that tender age they will guide you in the right direction.
Your puppy has to be registered with the Kennel Club if you are going to show it. This is a responsibility of the breeder who will register the litter with the Kennel Club after the birth and then supply the new owner with the puppy's registration papers either on collection or within three months. The Kennel Club registration document means that the puppy has been given a unique name and number that is held on record by the Kennel Club. The breeder's name will be on the document as the owner. You can apply to have this changed to your own, provided it is signed by the breeder and sent off to the K.C. with the relevant fee.
So your puppy is registered a pedigree, which to you means you're allowed to take part in various events up and down the country. More importantly as a pedigree the breeder has gone some way to satisfy the K.C's code of ethics.
The Northern Newfoundland Club goes further in its good breeding practices with more in depth guidelines for member breeders to follow. An example of this is, that along with the registration document they also have to provide a five-generation pedigree for the puppy, a diet sheet and details of any veterinary treatment given to the puppy.
Visit as many breeders as you can, whether they have a litter due or not, do your homework and remember that a good relationship with your breeder can be a lifesaver, when woken at one in the morning by your precious bundle who has just swallowed something ghastly from your garden.
Arm yourself with a list of questions, be honest and don't forget a good breeder will have at least two questions to every one of yours.