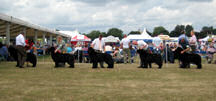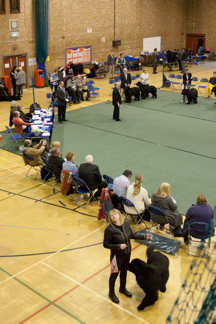 Showing Your Dog (Part 3)
Looking back it is nearly 4 years since I started this series, so if your memory is as good as mine you will have to review starting showing on the club internet site, which covers filling in entry forms and entering the open show.
Entering a Championship Show
A good place to start championship shows is a breed club Championship show, not just advertising, but these shows are not benched (something I will come to later) and have a very large entry so plenty to watch. They are reasonably informal and there are many more classes (27) than a general CH. Show which usually has between 10 and 12 . At Championship shows the dogs and bitches are shown separately, dogs first unless there are 2 judges as with our sister club. So if you have struggled at Open shows with a bitch against the bigger and more impressive dogs, now is your chance to only be assessed against your own sex – the dog's that is not you. Also be aware that Ch show entries close much earlier than open shows due to the large number of entries – Crufts about 23,000 and the breed clubs about 250. It is quite a sight seeing that many Newfies in one place! It also gives you a chance to play ringside judge and decide what you would pick, notice especially the handling, a good handler can make an average dog look special and a bad one can spoil an otherwise good dog, so watch and learn
Class definition
It is worth saying that if you are looking to qualify for entry to Crufts you can only do this by gaining a 1st 2nd or 3rd place in the following classes. We are currently in Band D so minor puppy, puppy, junior, post graduate, limit or open are the classes you need. Why enter any other? They all have trophies which will bear your and your dog's name in perpetuity if you win. You can enter a couple of classes but cannot withdraw from a breed class even if the judge did not like your dog. If it is a second class you are a 'seen dog' and will stand separately from the new dogs – ask the steward where to stand. General championship shows have variety classes which single breed shows do not and it, can be fun if you want to try a different judge and compete against other breeds.
To enter, read the class qualifications carefully, with classes such as Novice and Debutante you will have to check to see if you qualify. If you have a coloured dog (brown or landseer) there are extra trophies confined to one colour. If you have other dogs and decide to take them 'not for competition' at breed shows they can go in but, although a minority of CH shows will give them a bench, most provide a tent for un entered dogs in the car park.
The entry form is exactly as you are used to from Open shows, and if you have ventured onto the internet you will find most Championship shows available for entry online with either fosse data or higham press. The advantage of this is you only have to enter your details once on each printer's site and they will be stored for future use. There is no worry about them not being received as you get an immediate acknowledgment. The downside is it costs you an extra pound for each entry, at present only The Newfoundland Club offer online entry although it is under consideration.
Attire
So having entered, what next? Firstly what to wear, this is serious showing so you are part of the picture, men wear trousers, shirt, tie and jacket or suit and ladies similarly, a skirt is possible but remember the speed you need to move. A skirt that allows you to move without flapping and distracting both judge and dog is hard to find. Jackets should have sufficient room to allow you to stack the dog without splitting a seam and pockets if you need them for bait. Also look to colour, a black dog cannot be seen well against black trousers, unless that is there is a topline fault you want to disguise. The idea is to blend with the dog as a complete picture without distracting attention from the star, your dog. The clothing should also not attract dog hair and be washable, we love them but they do slobber. I usually take a spare pair of trousers, I was waiting to show at Crufts one day when a nice dog pee'd from above the knee to the bottom of my trousers, definitely not the best effect. I have also slipped at an outdoor venue and ended up mud from bum down. If you then need to go on to another class....well how would you feel! Shoes bear a mention, you will be on your feet all day so be comfortable but trainers rarely look good with a smart outfit especially after being stood on several times by your dog. How do you find the Newfs at a show? By the cries of 'Will you get off my foot!'* * * The outdoor shows are on grass which can be slippery and there is no guarantee that the judging will be undercover so ALWAYS take waterproofs. I know exhibitors who have shown in golf shoes in the wet for grip!
Presenting your Newfoundland
Now you are sorted what about the dog. A Newfie should ALWAYS be bathed for a CH show, you are paying a £20+ entry fee and probably double that in petrol so why ruin your chances by taking a dirty dog. Plan ahead, does you dog look better bathed the day before or do you need time for the coat to settle. Can you keep your dog clean from bath to ring? Don't try to do all your trimming in one go, although it will grow you can't stick it back on. We are looking to our husbandry (care of our dogs from fitness to coat) for months before Crufts to try and get them at their peak on the day.
A word about in season bitches – don't! They upset the dogs and rarely show to their best. They are feeling hormonal not extrovert so will ruin your day and everyone else's too. Also if a dog gets out of hand and jumps on her she could get hurt.
Check list
The night before the show, look at your list of what to take, to the basics we discussed before, add show clothes ( it is so easy to leave them hung on the stairs!), benching chain,(a special metal lead with hooks at both ends) food and water for the dog, travelling at 4am you will not have time to feed before you leave and although missing a meal is ok for adults who will get plenty of treats during the day puppies can't cope. Also if you get stuck in a six hour traffic jam on the way home! You will need food and water for both of you. In summer it is a good idea to put your water bottle and a wet towel in the freezer the night before and take a spray bottle and towel and an umbrella to keep the sun off. A wet towel and spray bottle of water can keep a big coated dog cool on a hot day and that includes being stuck in that traffic jam. A piece of vet bed which your dog has lain on over it's usual bed can help them to settle in a strange place.
Also a couple of weeks before the show general CH shows will have sent you passes to get in and out of the show, breed shows do not do this. If the passes do not arrive contact the printer and the secretary who will tell you what to do. You DO need them to get your dog in and out, By the time you have all your equipment, food water, spare clothing and the kitchen sink bear in mind how you are going to carry it. There is likely to be quite a hike from the car park, and some people manage a trolley/grooming table too!
Check your directions, the show is unlikely to be close. If you are not using a sat. nav. it is a good idea to make up a card with the directions if you feel you need. A navigator peering at a map may not be great on left and right – don't laugh it has happened! If you are alone it is easier to give a quick glance to a card than a map.
At the show
When you get to the show check VERY carefully where you are parked. Yes! I know you are on the back row but by the time you come out there may be a thousand cars and vans behind you! Take a bearing on a couple of immovable objects, like trees or buildings not that smart van with the cool paint job – it can move! and look at the cars parked around you. You can if the weather is suitable, leave the dog in the car and take you gear in first, find out where to go, collect you catalogue, find the ring and as at open shows check the hazards on the route to your bench first. This does take time so give yourself plenty. If you haven't got a benching chain you can buy one on your way to go back for your dog, Take your dog into the show on a road collar and lead complete with tags ( if there is an accident on route this could make the difference between getting your dog back and not) Please be aware of other dogs, keep yours on short lead and watch what is going on.
See if you dog will 'perform' on the way into the show and use the poo bag you have in your pocket. It breaks KC rules to foul in the precincts of a show. When you get to the bench put down the vet bed and put you dog on the bench as if you were putting them in the car, treat it like something normal and the dog will too .Locate the ring for the benching chain and attach the other end to your dog's fixed collar (NOT a choke). The length is adjustable so give your dog enough length to sit and lie down but not enough to leap off the bench, however provoked. Most dogs settle easily, it is the owners who are nervous. Sit for a while and introduce yourself to your neighbours, as you always bench alphabetically these people will be around you at every CH show from here on in, so get on and you will be able to keep an eye on each other's dogs and belongings when they left. Look at your catalogue and check you are in the right class. If for any reason you are not you need to see the show secretary. As before if your entry is correct it will be added to the catalogue, otherwise you can be transferred to the correct age class, the only other alternative being open with the champions, so you may be stuck with it. On the back of the bench should be 2 cards each bearing your number, one stays on the bench the other put in your armband/ringclip NOW. Otherwise you will enter the ring, go 'Oh my God! Rush back to the bench and end up in the ring at the end of the line hot and bothered.
You should be there at least 40 mins before your class, if you have a minor puppy dog, tough luck you have an early start, but a good pick of the parking places. Indoor shows make sure you know which is your ring and where the judging is up to, if it has started. If you are at an outdoor show you will be in a tent, and the ring could be a few minutes walk, but there is also an indoor ring for if it rains, just check where it is. Also locate the toilets, nothing makes them necessary as much as taking your show lead out of your bag! If you have time now is a good point to leave your dog for a moment or two. Walk down the bench and then come back, wait a while then go around the bench, you can see your dog but he/she cannot see you. See how settled they are, this is useful because at some point you may need that toilet, or a coffee.
Hopefully you can see the ring from your bench because you want to cast an eye over the ring and see how the judge is moving the dogs. As before when it is your turn you want to be in the middle of the line so you can watch and you have time to sort yourself out both before and after you perform. There is no shame in mentioning to the steward that it is your first time. Their job is to help the judge, they won't say anything to anyone but will keep an eye on you and make sure you know what is going on.
Get changed and take you dog off the bench well before you are due in the ring, complete your grooming, change over to your show lead and collar, if you have any doubt about your dog getting over excited swop leads just before you go in the ring and leave your brush, bib, and ordinary lead on a seat round the ring to pick up after. See if you can find space to move your dog and settle him on the move, when the class is called remember showing starts now, gait into the ring and move around to the line up it warms your dog up and gives him a chance to experience the surface. If you are outdoors look at the lie of the land, all dogs look bad with their front feet below their back so give yourself enough space to avoid this. In extreme cases if you can do it stack the dog the wrong way round – this takes practice but at venues like Leeds we are habitually on a slope.
Watch the judge, he will be writing up his critique when you come in to stack your dog. When your judge is about to finish writing stack your dog, as few young dogs will hold the stack for long. The judge will go up the line and you can guarantee at the wrong moment you dog will move. If you cannot quickly line him up again, break the stack and circle to bring him back to the stand in front of you. Then you will be off in groups of around 8 to gait once or twice round the ring. Just like an open show but the ring is a LOT bigger so pace yourself, don't run up the back of the dog in front and keep an eye behind. The person behind is responsible for their own pace but they may not be paying attention when you stop. If you are being run in 2 halves step well back to not interfere with the next group of dogs. Then the individual judging starts. A CH show judge will invariably step forward to give you chance to stack you dog whilst he watches the previous dog move back to the line. Take this opportunity, you WILL need the time. Listen carefully, you may be asked 'How old?' other than that expect to be told a triangle and up and down. Stand by the judge look for a point (ie the corner) and move straight towards it, look where you are going, glancing at the dog not the other way round. Tell your dog to turn and fix on your next mark, on the final leg look at the judge, this will keep you straight. Then up and down, same again fixing on a mark then back to the judge, slow as you approach, steady and stand. Quickly stack your dog for the judges final look, then gait back to the line but as you get there slow, stand and stack you may be being watched. Throughout the judging keep you attention on the judge, not chatting, as often the judge will look back down the line especially in a big class. It keeps his placings in his mind and sometimes reveals things you would rather he didn't see. The stewards may warn you when the last dog is being seen otherwise you will have to note who went first. Then final stack, and the judges decision, They may place or shortlist Good Luck! If you make the final 2 or 3 you will be needed at the table for a critique. Don't forget to congratulate those ahead of you and acknowledge those behind.
Finally......
Finally there are no short cuts to experience. You have 2 ears and one mouth so listen twice as much as you talk and REMEMBER we all take the best dog home. Your dog will have done his best to do what he thinks you asked of him. Win or lose give him a pat and make a fuss of him as soon as placings are made so showing is a fun experience, a day out with his best friend where he is the centre of attention. Then you will both want to go back.