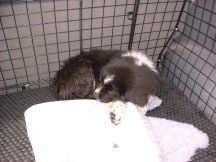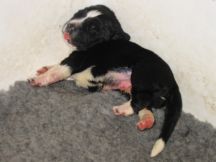 Useful Links
Further Advice
Consider the following when choosing a breeder
YOU MUST talk face to face and visit as many breeders as possible, even if it means a long drive. NEVER agree to a sale on the phone. NEVER buy from a breeder who advertises puppies with the words "Downpayment secures". NEVER buy from a breeder who offers to meet you at a service station to hand the puppy over.A visit will enable you to meet the breeder and see the conditions in his kennel.

Ask the following questions:

Are the facilities clean? Are the premises obviously scrubbed and disinfected? Is there obviously a high standard of comfort and care for both mother and puppies?

Are the puppies clean? Puppies should at all times have a warm dry pen, clean bedding and flooring. All puppies roll in poo occasionally but large amounts of excreta in the whelping box or puppy pen is a sign of poor husbandry. Check the state of the bedding. If the newspaper or vetbed is wet with urine, smelly and caked in excrement the standard of care is lacking. If a puppy has excrement dried into its fur this also indicates that the breeder is not handling the pups (essential for socialisation) or brushing them regularly.

Ask to see the dam (mother) and the father (sire) of the puppies. Remember the sire may not be on the premises since he may be owned by someone else, but the breeder should offer information about him. Does the bitch look happy, healthy and cared for? Is her body weight good? A skeletal bitch shows she is not being fed an adequately nutritious diet to feed her litter. Is she groomed though she may have lost her hind and tail feathers if she was trimmed before giving birth. NEVER buy a puppy without seeing its mother (puppy farmers sometimes buy whole litters at a few weeks old and ship them without the mother-this is a recipe for disaster and the stress often results in sickly puppies which are inadequately socialised).

Ask to see the pedigrees of both the sire and dam and look at the hip scores and heart results of ancestors. Ask to see the British Veterinary Association hip scores of BOTH parents (scores are from 0 to 106- the lower the score the better). A hip score is taken from an x ray of a dog's hips. It measures accurately the state of the hip joints and both hip scores are added together to give a final score. The B.V.A mean hip score is now a total of 26, but bear in mind this is based on limited data. In the overall Newfoundland population it will be higher since many poor hips are not scored. Also many pet dogs are not scored. Ideally both parents should have a lower hip score than the average although this still does not guarantee the puppies will have sound hips. Hip Dysplasia cannot be diagnosed in a very young puppy so parental tests are essential since heredity is a major factor in the disease.

INSIST on seeing the ECHO DOPPLER documentation for BOTH sire and dam, which is proof of their Heart status. This test indicates whether the heart is normal, equivocal (borderline) or abnormal. NEVER buy a puppy without seeing the Echo Doppler paperwork for the parents. A vet generally cannot detect DCM (Dilated Cardiomyopathy) or SAS (Sub Aortic Stenosis) in a very young puppy and in any case it is not uncommon for a puppy to have a puppy heart murmur which disappears as they grow. So it is vitally important that the parents are checked and clear. ALL Northern Newfoundland Club, Newfoundland Club and Southern Newfoundland Club Members agree to Echo Doppler ALL Breeding stock, since it is part of the Clubs' Rules and Guide to Good Breeding Practice. But non club members who are outside the control of the registered Newfoundland Clubs have no such compunction, and many NON CLUB breeders of Newfoundlands are not interested in the Health of their breeding stock but breed purely for profit. It is heartbreaking to buy a lovely puppy only to discover later that no checks were done on the parents and the puppy is facing a shortened life and massive vet bills. If the breeder tells you that everything is fine and no paperwork is necessary, DO NOT BUY A PUPPY. WALK AWAY AND BUY FROM A REPUTABLE CLUB MEMBER WHO ABIDES BY THE CLUBS' CODES OF ETHICS.

Ask for details of the bitch's age and Breeding record. A bitch should NEVER be bred on successive seasons. She should not have a litter before the age of 2 years or after the age of 7 years. ( stated in the Breed Clubs' codes of ethics and currently under consideration by the Kennel Club for inclusion in the Accredited Breeders Scheme.) Details of her litter history can be obtained from the Kennel Club's Breed Record Supplement or from The Northern Newfoundland Club which keeps detailed records of all breeding registered with the Kennel Club. If in doubt, check!!

Be careful when researching puppies on the internet. The internet is a wonderful place to do research and educate yourself about Newfoundlands. However, nothing can compare to seeing the mother and puppies, a breeder's facilities or how the breeder interacts with their dogs. And remember PUPPY FARMERS USE THE INTERNET! They can be very plausible. They want your money and will set out to win your trust and their puppies are often as expensive as a reputable breeder who has done all the health checks. The Kennel Club has recently introduced the Accredited Breeder scheme but beware of breeders who use the scheme in order to advertise their puppies and bypass The Newfoundland Breed Clubs' Codes of Ethics by not being Club members. Breed Clubs have the most knowledge of the breed – treat with suspicion breeders who are not Breed Club members. If you want a puppy contact the Newfoundland Clubs' Puppy Liaison Officers who can give you details of members' litters. The parents of these puppies will have met all veterinary health checks demanded by the Clubs.


It is not unusual to have to wait six months for your Newfoundland puppy from a breeder. Quality is worth waiting for. A Newfoundland puppy should NEVER go to a new home before the age of 7 weeks, preferably 8 weeks. Usually, by 8 weeks, a puppy has been checked by a vet, received initial vaccinations and wormings, and is ready for his new family. It is also not unusual to have to contact a breeder several times - in fact a reputable breeder will welcome this. He /she will want to get to know you before allowing you to own one of their precious babies. Please keep in mind that responsible breeders are very busy with their dogs exercising, grooming, showing, working, and it may take them a while to respond to your inquiries. A responsible breeder will do whatever it takes to make sure that their puppies have forever homes. REMEMBER A DOG IS THE BREEDER'S RESPONSIBILITY FOR THE WHOLE OF ITS LIFE! Expect the breeder to visit you, and demand details of your lifestyle, home and garden.
DO NOT be tempted to buy more than one puppy at a time unless you are an experienced Newfoundland owner! Two pups from the same litter require twice as much training, can be doubly naughty, are less people orientated and can occasionally show agression to each other.
Responsible breeders have written sales contracts. As with any contract or agreement, these should be read carefully and discussed in detail with the breeder before signing. Newfoundlands are subject to hereditary heart defects and should be examined by a vet before being placed in a new home. No bloodline is absolutely free of all hereditary problems. The Northern Newfoundland Club considers it necessary to evaluate all adult breeding stock for hip and elbow dysplasia, heart defects and cystinuria status. A responsible breeder is ready and willing to openly discuss these potential health problems with you.
A responsible breeder will be happy to supply you with references of satisfied customers. In return, the breeder may ask you for references such as your veterinarian. they will also question you about your lifestyle, why you want a Newfoundland, and your own facilities for a Newfoundland. They would be rightfully concerned if you do not have a securely fenced garden with appropriate shelter.
A Newfoundland puppy should come with the following information: A detailed puppy pack containing the following:

K.C registration papers.
a pedigree of 3 or more generations with details of hips and heart test scores.
written instructions on the feeding, excerise, socialisation and care of the puppy.
guidance on health issues.
grooming and coat care, advice on ticks, fleas and ear mites.
an immunization record and schedule including date and type of serum, and dates future inoculations are due.
a worming record and schedule.
a written sales contract and guarantee stipulating all terms and conditions of the sale.


A reputable breeder will usually guarantee their willingness to take a puppy back should major problems arise. The K.C. registration papers will be endorsed by the breeder if he/she is a Club member. The endorsement prevents the dog being used for Breeding and can only be lifted by the breeder at a later date. Details of the endorsement MUST be supplied in writing at the time of the sale.

Finding the right puppy and breeder for you is often time consuming and difficult. Once found, you will have friends for life! Take your time; a few months spent in your search will be well worth it!