Ir. Ch. Fairweather's Knockout with Brooklynbear
Mr. W. & Mrs. A. Dobbin
William Dobbin pictured with NNC President, David Pugsley (left) and Show Judge, Mr. John Burrows (right)
Our 2008 Championship Show was held at Sutton Leisure Centre, St. Helens on 5th April and attracted 183 entries.
A big 'Thank you' to Show Judge, Mr. John Burrows (Mayoss), Show Manager, Susie Raymond and all those who helped in the planning and on the day to make the show such a success and fun event.
Minor Puppy
Wanitopa Barber Of Seville to Millthorpe
Mrs A P Springthorpe
Puppy
Paradeso Italian Illusion
Mrs D Richardson
Junior
Newf Dog Night Fever (Imp Dnk)
Mrs J Sheridan
Novice
Cewridwr Llyn Arenis Fawr
Mr R J & Mrs R M Evans
Yearling
Cenrirdwr Llyn Brenig
Mr & Mrs A Gadson
Graduate
No Entries
Post Graduate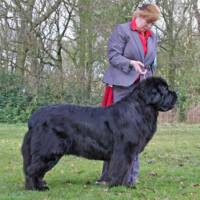 Shalowseas Spin Doctor
Mrs S Morgan and Mr C Rodgers
Limit
Chateaunewf Gifted N Black
Miss S Ashdown, Mr D Bedford and Mrs S Waller
Open
Ir. Ch. Fairweather's Knockout with Brooklynbear
Mr W & Mrs A Dobbin
Veteran
Sheridel Kentucky
Mr J & Mrs H Johnston
Special Veteran
Wanitopa Trafalgar Tosca of Cabstar
Mr & Mrs B D Kitson
Special Open Brown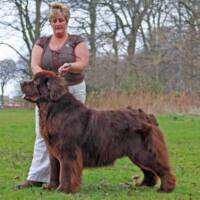 Darkpeak The Big Muddy
Mr G P & Mrs P Leach
Special Open Landseer
Scotiabear Bon Jovi, JW
Mr D & Mrs C Lyall
Minor Puppy
Hanningfield Bewitched
Mr S & Mrs C Walker
Puppy
Zarinska Enchanted Melody
Mrs B A Nadolski
Junior
Brooklynbear Calendar Girl
Mrs A & Mr T McVea
Yearling
Sheridel Onida by Newfinch
Mr G W & Mrs J A Bagnall
Novice
Sheridel Pushbutton
Mr T & Mrs D Richards
Graduate
Andsambear Kieragh of Orovales
Miss J E Yeowood
Post Graduate
Shalowseas So To Speak
Mrs S Morgan
Limit
Beecreek's Brooklynbear Comedy (Imp USA)
Mr W & Mrs A Dobbin
Open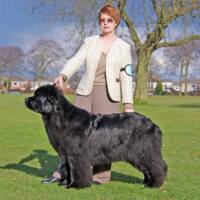 Ch. Honeybears Pillow Talk
Mrs C E Stuckey
Veteran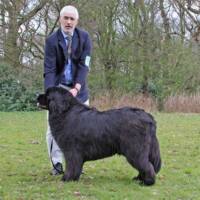 Honeybears Melody
Mr R B Mayhew
Special Veteran
Stelamah Star Choice
Mrs S Lloyd-Denman
Special Open Brown
Ch. Shalowseas Bear Necessity, JW
Mrs S Morgan
Special Open Landseer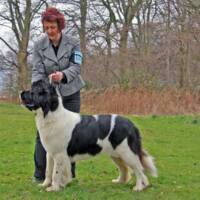 Seafar Dani California
Mrs L Ratter
Share