Membership Application
If you would like to become a member of the Northern Newfoundland Club then please click the link below to access the Application Form. This will need to be completed and posted to the Membership Secretary.
Please note Paypal cannot be used for Membership Applications.
Membership Renewals
DUE 01 JANUARY 2017
If you haven't already renewed your membership, we are making it easier and quicker by accepting payments by PayPal.
A surcharge of £2.00 on Joint, Single and Junior Membership is included when paying by PayPal to cover the fees they charge to us.
From 01 March 2017 a late payment fee of £5.00 is charged to renew a lapsed 2016 membership.
Thank you for your continued support.
UpcomingEvents
17 September 2017
Water tests will be taking place on the above dates at Rudyard Lake.

Entries close on 11 September 2017

Welcome to the Northern Newfoundland Club...
Formed in 1984, the Northern Newfoundland Club is the second oldest of the three KC recognised representative Breed Clubs in the United Kingdom. We promote all aspects of responsible and enjoyable Newfoundland ownership and organise numerous events and activities through the year ...
more
Open Show Report
The Northern Newfoundland Club held an excellent Open show on August 5th. There was a brilliant atmosphere, good sportsmanship, a great sense of fun and enjoyment among exhibitors,committee and dogs. The show was laid out on Friday by the NNC Show team of Rose Evans, Stella Baxter, Margaret Cox, Jacqui Woodhall and Jill Barker with help from our President Mr John Evans (who now knows why he shouldn't have retired!). We laid out the show indoors rather than use the outside rings since rain was forecast on Saturday and so we were prepared when the heavy rain arrived. But we still had a great day with lots of laughs.
Thanks so much to our judge Mr John Lloyd who had a real quality entry to go over. He seemed to thoroughly enjoy himself and we were highly relieved that he turned up looking extremely smart with a bow tie! We were worried that his Baywatch babe persona Pamela Anderson might appear again after members were encouraging him! We are still recovering from his last outing at DogFest! John and his ring stewards Mr John Evans and Mr Roy Bown were like The Three Musketeers! Poor Roy tried his best to keep order but he ended up wearing a Welsh dragon waistcoat and floppy dragon hat. And he was the only one of the three who isn't Welsh, poor chap. Welsh bunting decorated the side of the ring just to keep John Lloyd happy. So thanks to all! Our table stewards Rose Evans and Stella Baxter were busy all day keeping everyone on track while the rest of the show team Jacqui Woodhall and Jill Barker were ensuring the show ran smoothly. Also running the fabulous raffle was Kath Lloyd and we took a brilliant total of £140. Thanks to everyone who donated a wonderful range of prizes. Karen and Steve Hietschold were in charge of a wonderful range of gleaming trophies while Jenny Williams presided over a great range of merchandise on the Welfare stand which raised over £100. We now have an extensive range of NNC Welfare sweatshirts, hoodies, bibs, blankets, fridge magnets, key rings, and other NNC merchandise for sale which are very popular. Thelma and Neville Lee sold some beautiful engraved Newfoundland glass items which attracted a lot of interest.
NNC judging started 30 minutes after the Newfoundland Club show which ran parallel with ours. We began with Bitches while the NC judged Dogs first. The classes ran very smoothly with exhibitors showing in both shows with minimal waiting times. Everyone worked in harmony and everything went like clockwork.
Major NNC Results were as follows:
Grand Best in Show, Best in Show, Best Bitch in Show, Best Landseer Bitch, Best Landseer Bitch in Show : Groves Ch Bridgestone Grip it N Rip it JW.
Res.B.I.S., Best Dog in Show, Best Opposite Sex , Best Black Dog in Show : Farrar's Ch Cape Lewisporte Nirvana at Darkpeak JW (imp).
Best Puppy in Show and Best Puppy Dog : Dickson's Zentaur Der Capitan Wispered Omen.
Best Veteran in Show, Best Veteran Bitch : Farrar's Darkpeak Fallen Angel.
Best Brown dog, Best Brown in Show: McPhail's Spirebear Golden Barley.
Res. Best Bitch, Best Black Bitch : Leech's Nandobears Happy Heart and Soul JW.
Res. Best Dog : McPhail's Spirebear Golden Barley.
Best Veteran Dog: Leech's Dirty Dancing de L'iliade et L'Odyssee.
Best Puppy Bitch : Coldwell 's Zentaur Ain't No Thang.
Best Brown Bitch : Ball's Newgradens Llori Nanya JW Sh CM.
Unfortunately no one volunteered for the Brace on the day which was a great loss.
Grand Best in Show was the climax of the day when the Best in Show from both shows competed for overall winner. Because this is a special award the beaten dog rule applies which means it does not matter if one of these Best in Show dogs was beaten by another dog in the other show. Both B.I.S. winners were bitches so that was an interesting clash. The judge was Mrs Margaret Cox. The NNC B.I.S., Grove's Landseer Ch Bridgestone Grip it N Rip it JW took the top honours, pipping the NC BIS winner Farrar's Ch Darkpeak Fallen Angel to the post. Fallen Angel also won Grand Best Veteran in Show. Grand Reserve B.I.S. was then awarded to Farrar's Ch Cape Lewisporte Nirvana at Darkpeak JW which competed against Kirsteen's own bitch Fallen Angel. So a great day for some top class kennels . The Grand Best Puppy was Zentaur To Those Who Wait.
We hope you all enjoyed your day and are currently sharing our photos.
Thank you all again for your great support.
Jill Barker
Secretary and Show Manager
Open Show
05 August 2017 - Kennel Club Building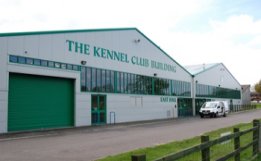 The NNC Open Show was judged by Mr John Lloyd (Cewrirdwr); There was a good entry of dogs, a very friendly atmosphere and the show was very successful.
All Results, Critiques and some Photos are online. The remaining Photos will be added as soon as available.
50/50 Prize Draw (members only)
Next monthly draw - end of September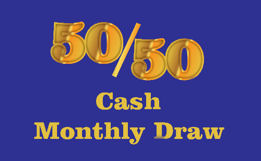 Our monthly prize draw for participating members aims to raise extra funds for the club.
Congratulations to our July winner, J D Blacklock who won £14.00 and our August winner, J Aldridge who won £ 12.50.
"You have to be in it to win it!"
Welfare Still Needs Your Help!
As you know the Northern Newfoundland Club Welfare believes that we all have a responsibility to rescue dogs in need; to educate the public about the desirability of adopting Newfoundlands as companions and family pets in the home.
None of this would be possible without the generous donations of money that we receive, and therefore we are appealling to you all to help by making a donation to NNC Welfare.
To find out more about the work and some of the costs involved, click the link below.
Our members and visitors to this our Club website are vitally important to our fund raising efforts therefore we have decided to raise the profile of Welfare by including below a new Welfare Paypal donation facility. We would be most grateful for any donation, however small.
Fundraising
Do you want to help raise funds for the Northern Newfoundland Club?
If you do then why not register with "Easy Fundraising". Then every time you shop online you will be raising money for the club. The NNC has now been enrolled. Please visit the site and register by clicking the link below:
Billy Toy & Book
SPECIAL PURCHASE AVAILABLE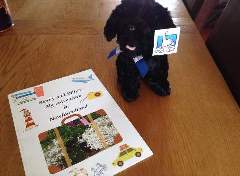 Available now from the NNC is a plush 'Billy' toy and the Benny & Billy book for a special price.
The Billy toy is available for £12. The book is priced at £13. Buy them both together for £22. Postage and packing is £2.50. Payment to be made to Viv Pound, NNC Treasurer.
"ZARINSKA" Golden Oldies Certificates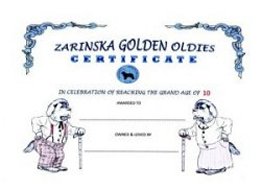 Do you own a Newfie that has reached the ripe old age of 10 years or more?
If so then why not apply for a 'Golden Oldies Certificate'. These certificates are kindly provided by Barbara Nadolski of Zarinska Newfoundlands. Proof of the dog's Date of Birth will be required.

Please contact Barbara directly by phone or email.
Tel: 01978 824029
Email:
zarinska.newfies@btinternet.com
Benny & Billy Book
NOW AVAILABLE TO ORDER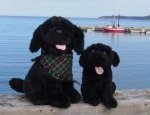 A new book for Newfie lovers is now available - This is the first book of adventures of Benny & Billy that can be ordered online here. This book will make an excellent gift for Christmas or just to add to your Newfoundland book collection.
The book is available directly from Jill Barker as follows:
In hand £13.00 (at an event)
By post £15.00 (incl p&p)
Via Paypal £17.50 (incl surcharge) - link below
Breeder & Puppy Website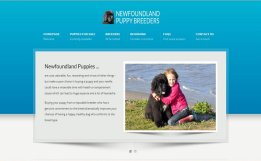 The Northern Newfoundland Club has recently launched a new website for breeders and puppy buyers.
The primary purpose of this web site is to put potential Newfoundland puppy buyers in touch with reputable and recognised breeders by steering them away from general online puppy sites (e.g. Epupz, etc).

Recycle and raise funds for NNC Welfare
The Northern Newfoundland Club Welfare have teamed up with a recycling firm who deal with mobile phones, ink, lazer and toner cartridges. For items recieved they will donate money to NNC welfare.
Click on the logo to be taken straight to our page on the Recycle for Charity web site where you can enter your details to recieve a freepost envelope in which to send your recyclable items - you can put up to 5 mixed items in each envolope. If you are unsure if your items can be recycled you can check when you are on the recycling page.
There will be large collection boxes and freepost envolopes available from Welfare volunteers at certain events but you don't have to wait, get recycling now and help to raise much needed funds for the NNC's welfare work.