Membership Application
If you would like to become a member of the Northern Newfoundland Club then please click the link below to access the Application Form. This will need to be completed and posted to the Membership Secretary.
Please note Paypal cannot be used for Membership Applications.
Membership Renewals
DUE 01 JANUARY 2018
If you haven't already renewed your membership, you can now renew using Paypal.
Unfortunately there is a small surcharge of £2.00 on Joint, Single and Junior Memberships to cover the fee that they charge us.
From 01 March 2017 a late payment fee of £5.00 is charged to renew a lapsed 2016 membership.
Thank you for your continued support.
UpcomingEvents
26, 27 & 28 May 2018
Water Tests and a Fun Day will be held at Rother Valley Country Park, Nr Sheffield.

Entries for the test close on 21 May 2018.


Welcome to the Northern Newfoundland Club...
Formed in 1984, the Northern Newfoundland Club is the second oldest of the three KC recognised representative Breed Clubs in the United Kingdom. We promote all aspects of responsible and enjoyable Newfoundland ownership and organise numerous events and activities through the year ...
more
Commemorative Cloth 2018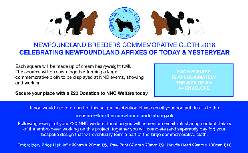 The NNC would like to make a commemorative cloth to celebrate all the affixes of today and yesteryear. This cloth will be displayed at NNC events (Showing & Working) throughout the year. Please support this great idea.
2018 Championship Show
The NNC are delighted that the show on Saturday 7th April was such a huge success and that so many exhibitors enjoyed their day. There are so many people to thank that I am afraid of missing someone but I will do my best to remember all the major contributors. Without their input the show could not happen and we are so lucky that the NNC can call on so many keen members who are always happy to go the extra mile. Our judge Mrs Sue Benyon had an amazing day and obviously loved meeting so many superb dogs. She was efficient, friendly and gracious to exhibitors and their dogs and her real love and knowledge of the breed shone through. Exhibitors were sporting, enthusiastic and shared the joy of the winners.

It was great to hear really genuine applause and I think we rivalled the excitement of the Crufts ring when Dani Ball's Crufts Best of Breed and Working Group winner, gorgeous brown girl Newgradens Llori Nanya, gained her Champion's crown, winning her third C.C under Mrs Benyon. She went on to win Reserve Best in Show . The dog C.C winner Blake, Moore and Beck's American Ch Mainlands Anchorbay Now I know my ABC's was awarded Best in Show. This was his second C.C. so a wonderful day for his breeders and owners. A spectacular win of the Reserve C.C. also for a very young dog, winner of Junior and Graduate, Dickson's Zentaur der Capitan Wisperedomen JW, a great day for him. The Bitch Res C.C was awarded to the multi ticketed Landseer bitch Ch Bridgestone Grip it N'Rip it JW who was on sparkling form.

Best Puppy in show was Springthorpe's Millthorpe Mr Rochester who lived up to his naughty reputation , chewing his beautiful rosette with enthusiasm.

Best Veteran in Show was Farrar's Ch Darkpeak Fallen Angel, she looked amazing at over 9 years, still covers the ground so well. A real star.

Thanks go to our ring and table stewards John Evans, Natalie Arkell, Margaret Cox and Jo Cameron , Jacqui Woodhall for overseeing the show organisation with Jill Barker the Show manager, Rose Evans and Stella Baxter for supervising the catering in a venue which no longer has catering of its own! Thanks to John Lloyd, John Austin, Jo Cameron and Lee Jackson who laid out the show on late Friday night and member Glen O'Brien who brought the show carpets in his trailer and collected them after the show.

Our Welfare novelties stall run by working members Ruth and Paul Dickinson ( accompanied by their two welfare dogs Jinny and Maximus) was exceptionally popular, selling a good range of clothing, bibs, blankets and many other goodies. They enjoyed themselves though they are more used to water and Draught work! Other working NNC members supported the Welfare coordinator Ros Dyer who introduced the welfare dogs who took part in the Welfare parade and won special rosettes. Special thanks to Judith Johnson and also Mandy Black who raised funds in an online photo competition for Welfare. Paul Dodd travelled all the way from Essex to St Helens to take amazing photos - thank you so much Paul. We rely on you completely for wonderful images.

Steve and Karen Hietschold presided over a wonderful array of sparkling trophies , Kath Lloyd ran a very successful raffle of some fabulous prizes donated by so many generous friends of the club, our Treasurer Leysa Halliwell was kept busy. We ran a successful auction at lunch time. A stunning planter carved in wood and decorated with running newfies was donated by the carver Terry Springthorpe and an unusual cake donated by Stella Baxter ( which turned out to be a cake for dogs not people) were both sold to keen buyers. So thank you Terry and Stella. Last but not least thanks to Jo Beston who sat by the wet and cold doorway handing out the catalogues to those exhibitors who had pre-ordered them. If I have missed anyone else then I apologise - there are so many people who contributed.

After final photos of the winners the judge was presented with a beautiful glass trophy as a memento of her day. It was personalised with the club logo and Sue's name and the show date. A great memory of a wonderful day.

Thank you all.

Jill Barker, Show Manager.
Second Newfoundland Fun Day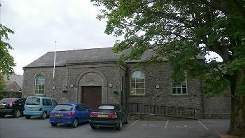 Back by popular demand. The 2nd Annual Newfie Fun Day will be held at Shap Memorial Hall (5 mins off the M6, J39) on Sunday 1st July 2018. Car parking is available at the Hall and at the library opposite.

The day will commence at 10:00am and finish around 5:00pm. The charge of £5 per car includes a fabulous goody bag for your dog. There will be a raffle, indoor / outdoor games including a prize for the best handler & dog fancy dress. Hot and cold refreshments will be available from the Paws for a Bite cafe. All proceeds will be split between the NNC and NNC Welfare.

Come along and have some fun with your family, friends and Newfies whilst supporting this very worthy cause.
New Welfare Coordinator Required
The NNC is looking for an experienced coordinator to take charge of our welfare and rescue work since sadly Ros Dyer has made the decision to retire from this summer after six years of hard work homing dogs for the Club. We are extremely sorry to lose Ros, but everyone has to retire at some point, and she definitely has earned some time for herself.
I am certain she will be busy still helping dogs with behavioural issues.
All candidates will be expected to apply formally and be interviewed for the post. The right person must have excellent Communication skills, be experienced dealing with Newfoundlands which sometimes have problems due to trauma, abuse and lack of training, work closely with a team of helpers and fosterers and be responsible for organising new loving forever homes and transport . Detailed computer records must be kept for every dog. It is a hugely demanding role. The new Welfare coordinator must be a Club member (or become one), will work closely with the Committee and is expected to attend four Committee meetings a year to present a detailed report. The appointed person will also work closely with the Welfare Officers of the Newfoundland Club and Southern Newfoundland Club.
If you are interested then you can find out more by speaking to either Ros Dyer, Tel 07766 797257 or contact Jill Barker, the NNC secretary via email secretary@northernnewfoundlandclub.org.uk
Welfare Still Needs Your Help!
As you know the Northern Newfoundland Club Welfare believes that we all have a responsibility to rescue dogs in need; to educate the public about the desirability of adopting Newfoundlands as companions and family pets in the home.
None of this would be possible without the generous donations of money that we receive, and therefore we are appealling to you all to help by making a donation to NNC Welfare.
To find out more about the work and some of the costs involved, click the link below.
Our members and visitors to this our Club website are vitally important to our fund raising efforts therefore we have decided to raise the profile of Welfare by including below a new Welfare Paypal donation facility. We would be most grateful for any donation, however small.
Championship Show
07 April 2018 - Sutton Leisure Centre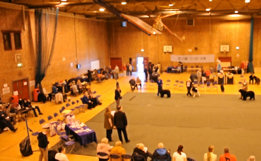 The NNC Open Show was judged by Mrs Susan Benyon (Kaijasholme); We had an excellent entry of dogs, their was a very friendly atmosphere and the show was a great success.
All results, critques and photos are now online.
50/50 Prize Draw (members only)
Next monthly draw - End of May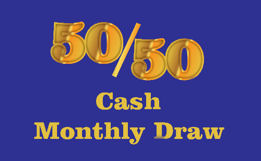 Our monthly prize draw for participating members aims to raise extra fundsfor the club.
Congratulations to our April winner, Sue Palier who won £ 17.00.
"You have to be in it to win it!"
Fundraising
Do you want to help raise funds for the Northern Newfoundland Club?
If you do then why not register with "Easy Fundraising". Then every time you shop online you will be raising money for the club. The NNC has now been enrolled. Please visit the site and register by clicking the link below:
Billy Toy & Book
SPECIAL PURCHASE AVAILABLE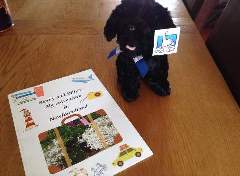 Available now from the NNC is a plush 'Billy' toy and the Benny & Billy book for a special price.
The Billy toy is available for £12. The book is priced at £13. Buy them both together for £22. Postage and packing is £2.50. Payment to be made to Viv Pound, NNC Treasurer.
"ZARINSKA" Golden Oldies Certificates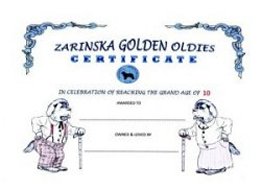 Do you own a Newfie that has reached the ripe old age of 10 years or more?
If so then why not apply for a 'Golden Oldies Certificate'. These certificates are kindly provided by Barbara Nadolski of Zarinska Newfoundlands. Proof of the dog's Date of Birth will be required.

Please contact Barbara directly by phone or email.
Tel: 01978 824029
Email:
zarinska.newfies@btinternet.com
Benny & Billy Book
NOW AVAILABLE TO ORDER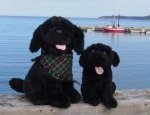 A new book for Newfie lovers is now available - This is the first book of adventures of Benny & Billy that can be ordered online here. This book will make an excellent gift for Christmas or just to add to your Newfoundland book collection.
The book is available directly from Jill Barker as follows:
In hand £13.00 (at an event)
By post £15.00 (incl p&p)
Via Paypal £17.50 (incl surcharge) - link below
Breeder & Puppy Website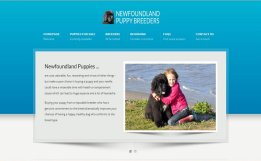 The Northern Newfoundland Club has recently launched a new website for breeders and puppy buyers.
The primary purpose of this web site is to put potential Newfoundland puppy buyers in touch with reputable and recognised breeders by steering them away from general online puppy sites (e.g. Epupz, etc).

Recycle and raise funds for NNC Welfare
The Northern Newfoundland Club Welfare have teamed up with a recycling firm who deal with mobile phones, ink, lazer and toner cartridges. For items recieved they will donate money to NNC welfare.
Click on the logo to be taken straight to our page on the Recycle for Charity web site where you can enter your details to recieve a freepost envelope in which to send your recyclable items - you can put up to 5 mixed items in each envolope. If you are unsure if your items can be recycled you can check when you are on the recycling page.
There will be large collection boxes and freepost envolopes available from Welfare volunteers at certain events but you don't have to wait, get recycling now and help to raise much needed funds for the NNC's welfare work.